Green Home Handbook
Staying sustainable while working from home
Sustainability has always been a core value at Circuit Media. While working in the office, we practice sustainability as a team effort. But we came across a problem when we transitioned to remote work: How do we encourage employees to maintain sustainable practices while working from home?
While working remotely, your home becomes your office. You're no longer sitting in one chair all day but bouncing from room to room in an effort to stay productive. If we expect to remain good stewards of the environment, the green office concept must translate to this new work environment. From this desire, the idea for the Green Home Handbook was born.
This interactive handbook shares sustainable tips, tricks and best practices for each room in your house. Use it as a guide to help transform your house into a green home.
Social Media
For the rollout of the Green Home Handbook, our team created a series of social media posts. The first post was a campaign announcement with an invitation to view the handbook and take part in sustainable home living. The next five posts were highlights of some rooms from the interactive handbook.
Design
Our team applied best practices from the IDEO Human-Centered Design Course to design a dynamic handbook. The goal was to encourage others to bring Circuit Media sustainability standards home.
Accessibility
Providing inclusive access was critical for the Green Home Handbook. True sustainability cannot be achieved without accessibility for all. Along with accessible web design on the Circuit Media Green site, we created a separate, 508-compliant PDF of the handbook with a clear, easy-to-read design.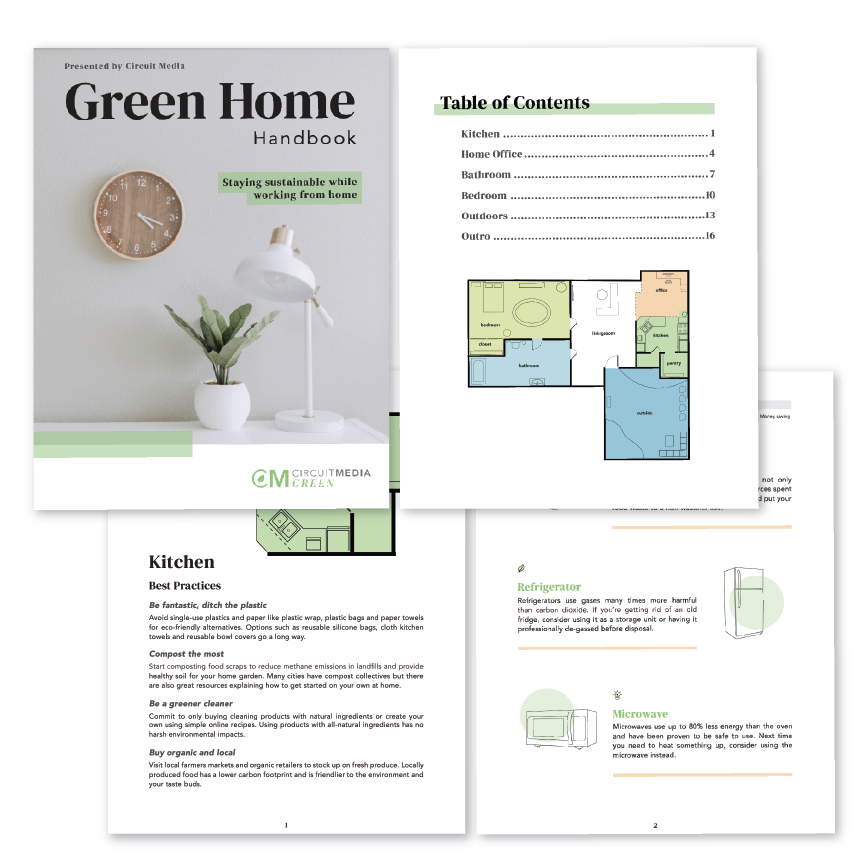 Thank you for taking the time to learn how to maximize the sustainability of your Green Home. If you'd like additional resources, please refer to: